Bike Dept. is a mobile application that provides mobile coverage to over 170 global cities featuring bike shares. It has been featured by Apple twice. My team and I led product, iOS, and Ruby on Rails development. The Bike Dept. app is available on iTunes

Awarded for best use of the Citi Bike Public API in the #CitiBikeFinder Challenge
App Concept
Bike Dept. is the best mobile app for bike shares
By more accurately calculating bike availability, we can be sure of when and where bikes are available. Bike Dept. crunches the numbers to make sure you get the closest available bike.

Trending
Thanks to an intelligent mix of live feeds, hourly trending, and historical results, we don't only know if a bike's available now, we can predict if one will be there when you're ready.

Broken Equipment
We track broken bikes and docks and removes them from the map. If it's broken, we won't send you there and we'll make sure you find the next good one.

Number of Riders
Bike riding is more fun with friends. Tell us how many riders you have and we'll automatically adjust the results so everyone gets a set of wheels at the same dock.

Filter Stations
Fan of surefire things? Remove red and yellows stations from the map with a swipe of your finger and see the docks that definitely have bikes waiting for you.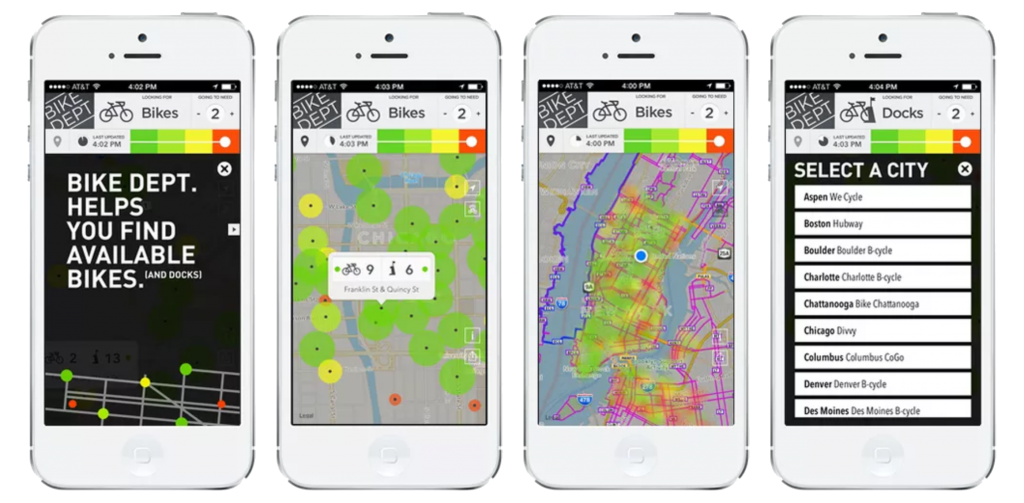 ---
Client: Byte Dept Inc. (internal product)
Scope: Branding, Design, Animation, Production
Year: Sep 25, 2013