Hi! I'm Roland, a NYC-based product design generalist, leader, mentor, and team player.
I deep-dive into team building, storytelling, user-centered design thinking, and always champion for digital accessibility. From brand strategy to web development, user experience, and information architecture, always embracing the principles of Lean Design/Startup.
For two summers running, through an arrangement with Samsung, I taught native (Android) mobile app development to hundreds of students in ten U.S. states. My work has been featured twice by Apple and Mozilla, and I've led projects for Fortune 500 companies, large consumer brands, and technology startups.
I'm a founder of tech startups, contributor to the W3C immersive web working group, and an inaugural member of the XRAccess Initiative. It's my passion to shape the "Metaverse" and the future of an inclusive web-based virtual and augmented reality (WebXR).
Currently, I'm the XR Accessibility Advisor at Virtuleap, a Mozilla TechSpeaker, and creator of GRAVR — A globally recognized avatar for VR on the web.
Previously, I co-founded the consulting agency and dev shop ByteDept., designing projects for some of the world's most respected brands in a variety of verticals, including: entertainment, consumer goods, data visualization, education, healthcare, publishing, and market research.
Of Note
2022
ADA Compliance for Immersive Education WebXR Education Summit July 21, 2022
Co-hosting deepdive sessions A4: Non-Visual Access to Immersive Content & B1: Disability Inclusive XR Hackathon XRAccess Symposium 2022 June 9-10, 2022
Judge at the 2022 NYIT UX/UI Master Program Thesis Presentation New York Institute of Technology May 19, 2022
XR Accessibility Workshop XRAccess collaboration with MIT March 23, 2022
Lecturer & mentor at the MIT Reality Hack MIT Reality Hack | Augmented & Virtual Reality Hackathon March 23-27, 2022

2021
XR Access Plenary Panel: Building for All 2021 XR Access Symposium June 11, 2021
Q&A With Roland Dubois, Product Design Manager & UX Lead, Shop-Ware EqualEntry's Accessibility Activist Series June 1, 2021
Episode 038 with Roland Dubois: From VRML to A-Frame, XR Accessibility, Virtuleap and WebXR News Vhite Rabbit Podcast May 3, 2021
Consider People with Disabilities in WebXR Please Presentation at WebXR Tech Tokyo #5, Presentation Notes, March 23, 2021
Interacting with Objects in an Inclusive Virtual Environment Equal Entry Blog Article February 11, 2021
2020
Can You Identify Which Color Combination has the Greatest Contrast? Equal Entry Blog Article December 3, 2020
UX research and data visualization in collaboration with Roland Dubois for Relax+Think Space for Iterative-explorations November 20, 2020
Does WAI-ARIA even work with WebXR? Equal Entry Blog Article November 13, 2020
BFA Design Faculty Members' "Masks for Unity" Project Counters Racism with Creative Community-Building sva.edu Fall 2020 Newsletter October 27, 2020
WebXR News – AR & VR news with a focus on WebXR & the Immersive Web Paper.li curated Newsletter October 10, 2020
Breakout Session 1.6 – User Needs: XR Communication / Social / Meetings, Note-Taker/Reporter at the 2020 XRAccess Symposium July 20-21, 2020
From Hack to Product Feature – how to leverage R&D at work through hackathons, A11yVR Meetup hosted on Mozilla Hubs July 16, 2020
Design for COVID-19 – Masks for Unity Campaign, The Design Vanguard June 2020
2019
Motricity in the Immersive Web – Inclusive & Accessible Locomotion and Interaction in XR on the Web, W3C Workshop "Inclusive Design for Immersive Web standards", Seattle, WA November 5-6, 2019
Building Inclusive & Accessible Applications for VR in Education, VRED hosted at SAP October 16, 2019
Accessible Locomotion and Interaction in WebXR, Medium July 7, 2019
Reality Virtually (AR/VR) Hackathon 2019 submission AccessibleLocomotionWebXR won 3 Awards (timestamp 1:46, 2:10, 2:19) Wayfair's Way-More, Best App for Accessibility, Best Use of an HTC Vive Focus, MIT Media Lab, Boston January 17-21, 2019
2018
WebXR: Standards & Practices, Panel Speaker at the NYVR Expo October 25, 2018
A11yNYC Aug 2018 – Inclusive Web-based Virtual Reality: A11Y & WebXR Immerses the Visually Impaired, Presenter at the A11yNYC Meetup August 7, 2018
1st Annual WebXRWeek, Co-organizer since 2018
Host of the official A-Frame Meetup NYC | Event Log: Demos and Presentations, Meetup since 2018
2017
Host of WebXR New York, Meetup since 2017
Approaches to A11Y in WebVR | YouTube Video, W3C Workshop on WebVR Authoring: Opportunities and Challenges, Brussels, December 5-7, 2017
"Approaches to Accessibility in WebVR" Consumer Conference Seminar Session, NYVRExpo, October 28, 2017
WebVR as a Sales Tool, Medium October 10, 2017
Winner of the Sketchfab WebVR Hackathon, prweb.com July 28, 2017
Ferguson VR Hackathon Presentation and Workshop, May 6, 2017
A practitioner's perspective on A-Frame: —Interview with Roland Dubois, Mozilla March 28, 2017
2016
VR Gets Real with WebVR, Medium December 1, 2016
Q&A Jeffrey Zeldman, net – The Voice of Web Design (Issue 284) September 2016
2007 – 2015
Samsung Mobile App Academy — a corporate philanthropy program sponsored by Samsung, Samsung Newsroom, September 2015 & 2014
NYC BigApps 2014 winner for the #citibikefinder challenge, BigApps August 2014
Awwwards 2013 winner Byte Dept. Inc corporate website, category "Interactive", Awwwards November 2013
Multiple features and mentions in the book "Visual Marketing: 99 Proven Ways for Small Businesses to Market with Images and Design", Wiley September 2011
Speaking in Code (Article about ByteDept Inc.), Inc. Magazine June 2011
Calculating the Return On Investment (ROI) on Marketing Your Design Skills, Noupe September 2010
American Web Design Award: Masterpiece Yourself, GDUSA 2009
Communicator Award: Renaissance Capital, The Communicator Awards 2009
Communicator Award: VZW Total Rewards, The Communicator Awards 2009
Apex Award: Pepsi Bottling Group Healthy Living, APEX 2008
Apex Award: Renaissance Capital, APEX 2008
Apex Award: Langton Cherubino Taxi Promotion, APEX 2008
Best of Web Award: Langton Cherubino Taxi Promotion, Step Inside Design 2008
Creative Award: Langton Cherubino Moving Campaign, Summit International Awards 2008
Apex Award of Excellence for Web Sites: R.W. Rogé Website, APEX 2007
2006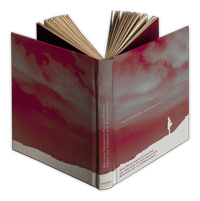 As a passionate traveler and art fan, I authored a book (written in German) about walking in the region of Lazio and Abruzzo, Italy in the footsteps of the German Romantic painters.